Today I did one of the most exciting things ever. I rode an All Terrain Vehicle or fondly known as an ATV. The company that provides this service is called ATV adventure park (website below) which is located in Kampung Kemensah right in the interiors of Ampang (I don't think however that, that is Ampang anymore as there were Selangor flags)
How to get there: take the MRR2 all the way to Ampang to Zoo Negara. Next to zoo Negara, there is a road called Jalan ZooView. Keep going straight on that road although you may think that it will end in a parking, it will however take you into Kampung Kemensah. The road is small and single lane. From zoo Negara, the distance is about 5 KM. You will pass villages and at least one chalet before reaching ATV adventure park. Once you are at the venue, park your car by the sleeve of the road ad you cannot take it into the adventure park because I tried and realized that my car is not an ATV.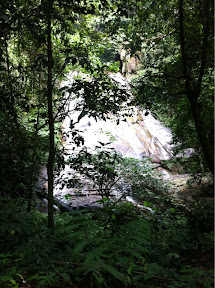 The whole package costs about RM150 per pax which includes the ATV and the gears (gears is only helmet la actually), off road ride through the lush forest up to a waterfall where you can spend some time bathing/picnicking and also the ride back to base. Oh, and also a guide!
They will provide training at the base which is very simple and the ATV itself isn't difficult to handle. An aunty at about 60 years of age was trained to ride one (although am not too sure if she made it through the jungle or quit). The picture is the ATV I rode.
Once done with the training, you will go through a test ride and if you're comfortable, then you can start heading to the falls with the guide of course. There were 8 of us in our team so we were split to 4 each with 2 guides. The ride I tell you my friends is an experience you will never forget. You would want to go again.
The waterfall itself is such a beauty. If you are a nature lover, this is for you however, if you are a tree hugger, you may not be too happy because the vehicles are like bikes and they emit carbon because it is fuel based and not battery operated. You have been warned.
What to expect: fun, fun and more fun! And also getting dirty with mud and also collisions of ATVs because the track is slippery and you may langgar belakang your friend's or stranger's ATV. Also you may get yourself in a ditch if you ride too fast and cannot control the vehicle. Expect to be mauled by mosquitoes so bring insect repellent. Wear sports clothes and remember it is not a fashion show, no blings, high heels, designer clothes. Best to wear three quarters and sports shoes.
This adventure has to be one of the best I have done at least for this year.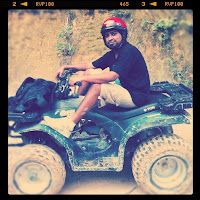 Trust me an ATV is easy and safe to use if used correctly. My wife probably rode the ATV better than me because she is a joki jipang of Bayan Baru! On the left is a picture of me after the ride. Do not comment on the helmet, I had no choice.
Here is the website for ATV adventure park: http://www.atvadventurepark.com/about.htm
Enjoy people. Hope you had as much fun as my friends and I did. Don't do drugs or alcohol before riding these machines. You may do alcohol after the adventure and talk about it over and over again ;)
- Posted using BlogPress from my iPhone