The title for this blogpost is to be sung to the tune of day-o (ref: beetlejuice)
The plants are progressing well especially with the spell of rain that we have been receiving. All the plants now are being grown under full sun which we in the equator are lucky because we do not really need greenhouses to plant tropical plants and plants will not suffer from frost and so on.
As you can see from the photos below, all of the plants except the lettuce have grown considerably well.
I still have one more plant to plant which is the cili padi. I have run out of soil so I have not had the chance to plant it yet and cili padi is my favorite. It goes well with any dish.
I remember back home (my hometown of Penang) my dad, elder sister and I would always have a cili padi in hand when eating, One mouth of rice and one bite of the cili padi... Oh, the bliss! Some say we northerners have a tolerance for spice, we can basically eat anything that is spicy and if it is not, you know we're not going to be satisfied. This reminds me of a colleague of mine who is from sungai petani. We were once in this kelantanese shop in dengkil where they serve some pretty good Tom yam and their signature dish called nasi goreng Malee. My colleague ordered the belacan and poured it all on his rice and requested for sliced cili padi. The waiter was surprised and he warned my colleague that the belacan is already very spicy. My colleague being a northerner said, I know, but it is not spicy enough for me so bring me the cili padi. The waiter obliged.
I know this article has deviated a little bit but hey, not everyone wants to read about plants now do they?
So yeah, I still have that cili padi seeds which I am itching to grow.
I leave you now with the pictures.
Okra/ladies fingers
Eggplant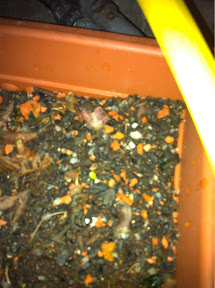 Lettuce. See that green spot?
Tomato
Chili
- Posted using BlogPress from my iPhone